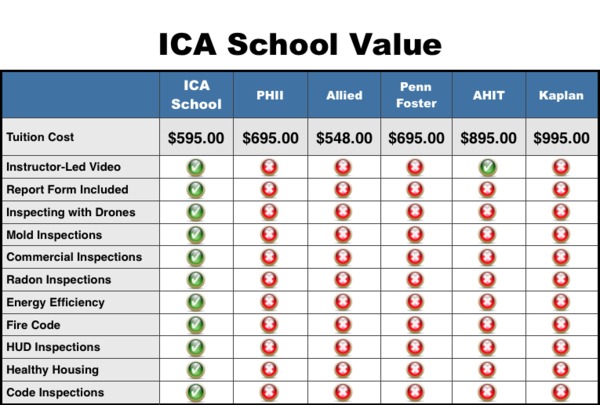 "This class was the cheapest I found, so I figured I'd just cruise through it and wouldn't learn much since I've been doing this for so long. The course ended up being awesome and I learned a lot, especially when it came to marketing." That's what Stan from Arlington, VA says about ICA School home inspection training. And his is one of many testimonials from our satisfied students.
Don't let the affordable price tag fool you. Our online, self-paced training is top-notch and it's always up to current industry standards. In fact, it's a better value than some programs that cost more than double. Here's why:
ICA School Includes What Others Charge Extra For
You might find everything that ICA School includes if you check out other programs. But you'll probably pay extra to cover the same ground. We believe that complete home inspector training should cover much more than just the basics. Because that's what you'll need to start a thriving home inspection business.
Here's what you'll get:
Instructor-led video sessions
A module on using drones
Hazard inspections such as mold and radon
Energy efficiency and healthy home inspections
HUD, Fire Code and general Code inspections
Plus more
Of the top programs that we checked out, none cover all of those topics. And only one of them has video study led by an instructor. And we go even further. You'll have access to our complete online library, plus 20 additional e-books that cover inspections for septic systems, termites, energy audits and more.
Watch how simple it can be to start a new career.
We Focus Heavily on the Business Side, Too
The majority of our training package covers how to perform a home inspection and a breakdown of defects that inspectors look for. But all of that knowledge won't help you run a profitable business. So where some schools only cover inspecting, we go the extra mile to help you succeed.
ICA School has two full marketing modules that give you a strong foundation for promotion and advertising successfully. There's also a module on legal and business aspects, plus you'll learn how to prepare a professional looking home inspection report that makes your business stand out.
The inspection process is only part of the job. When you choose our program, you'll get the complete package for success with inspections as well as running a business.
While many home inspectors come to the industry from construction or a related field, that kind of background isn't required. You'll learn what you need to know about home inspecting from our self-paced online training program. Anyone who puts their mind to it can succeed.
Some people shift to this industry after a long and fruitful career that's entirely unrelated to homes or home systems. An accountant can become a home inspector. And so can a full-time mom whose kids are grown and gone to college. And some people enter home inspecting directly from high school. It doesn't matter where you begin. What's more important is where you end up.
Other home inspection training programs might offer something similar, but you'll pay a lot more for it. Our modules, study materials, downloadable guides and one-on-one communication with an instructor make ICA School the best value, hands down. Enroll now and start a new career at your own pace.