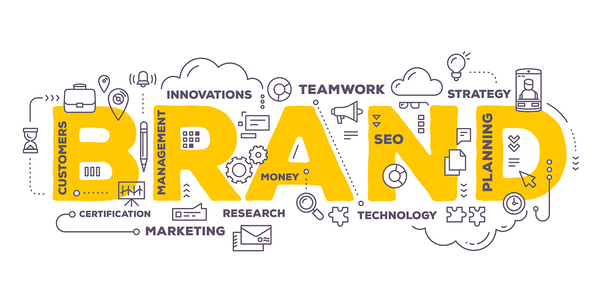 We're surrounded by brands. From the ads we see on the morning news to the branded content we read on our social media news feeds, we're often inundated with marketing messages before we've even had our coffee for the day. Instant recognition of big brands provides a kind of shortcut for advertisers. It's something home inspectors could stand to learn a thing or two about for their own businesses.
Developing a brand for your home inspection business can mean the difference between it withering in obscurity and growing strong and claiming its rightful place in your community.
Don't give it short shrift.
Whereas your home inspection business may not grow to capture the market share that Coca-Cola and Apple have, there's no sense in handicapping yourself by not putting enough time and energy into this project.
You've taken your home inspection courses, passed the test, and now you're ready to get your business off the ground. Don't expect it to fly itself. Give it a push.
You need a logo. You can design it yourself, but it's probably worth the money to have a professional do it for you. Entrepreneur says that when building your brand, consistency is critical, so you don't want to change your logo later, even a little.A house logo may be what you're looking for.True, logos need updating from time to time, but it shouldn't be often or drastic. Your logo and your brand are what make you recognizable, familiar, and comfortable for your customers. Something memorable is your goal. Find some logos you like, or make some sketches of what you have in mind to bring to the designers so they have some idea of where to start.Be careful not to make it too much like another logo; you want to be different. You want yours to be the only one, like the golden arches of McDonald's.
The company name is important. Many small businesses are named after the proprietors, and this makes sense. It's a good idea for you if your name is not too hard to spell and pronounce and if your name is not too common.You want people to be able to quickly identify your company, so it should be a name most people can read easily. You also want to stand out, so if your name is Smith or Garcia, this won't work as well.In these cases, a name that reflects your business's purpose and philosophy might work better. Consider putting "home inspection" in the name, and prefacing it with a location, such as your town, county, or state, or a positive adjective like trustworthy or secure.
Create consistency. 

Once you've got a company name and logo you feel comfortable with, it's time to update your online presence. Using an old logo or slightly different name one one platform and your new branding on another can confuse your clients. Be consistent in the way you refer to your business online to ensure clarity.

If you have employees working under you, loop them into the changes you've made to the brand. Get everyone on board with the same name, logo and slogan. While this seems like common sense, you'd be surprised at just how many home inspectors forget to follow through on their intended branding strategies!

Build your brand.

Brands are nothing without recognition. To help build awareness of your brand, create shareable content that includes your logo and name. Infographics, blog posts and podcasts are all great ways to share your insight into the home inspection industry while familiarizing the public with your name. Freemium content can drive new leads to your site and showcase your authority on all things home inspection.

Of course, web content isn't the only way to build your brand recognition. Create a referral program, sponsor a Little League team, partner with local businesses, or wrap your car in branded advertisements to really grab attention. There's no limit to the possibilities, so allow your imagination to run wild!

Branding is bigger than name and logo. Branding is what they do with cows — emblazoning them with a distinctive stamp, right? Yes, but it's more than that with a company.Branding is your company's philosophy, its method of doing business, its niche. If you are a particularly gregarious individual, maybe you want to set out to brand your company as especially friendly. If you have an advanced engineering degree and have started your business as a way to make money and keep busy in retirement, maybe your branding will include your advanced education and expertise.Before hanging out your shingle, sit down and decide how to brand your company. Entrepreneur suggests writing down your message and creating a voice for your home inspection business. Consider a tagline — "McMurray's Home Inspections — For Your Safety."
When you settle on a branding strategy, stick with it and reinforce it with every inspection you do. This will make your brand grow stronger over time.
Marketing Support for New Home Inspectors
Starting a home inspection business is exciting! Developing a brand, logo, and business strategy helps you stay focused and on course. ICA offers extensive support for home inspectors creating their own business. Not limited to just home inspection training, our online course includes everything you need to know about launching your inspection company from the ground up.
For more information about home inspection courses, check out our website today!