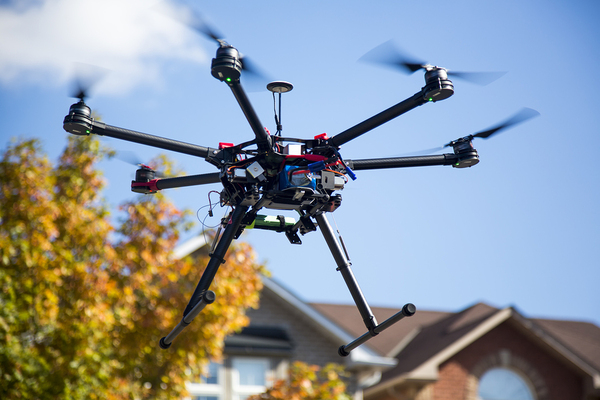 Heavy storms, such as the recent Hurricane Matthew, can cause severe problems for homeowners. But downed branches, broken glass, hail damage, and other storm-related hazards can't hide from a drone-assisted inspection.
A drone goes where you shouldn't, and also where you sometimes can't. Here's why this technology might be the best invention yet for getting a thorough inspection regardless of the home's condition.
Drones Make Roof Inspections Safer After a Storm
Some home inspectors never really get used to walking roofs. It's nearly always a tricky endeavor and one that every inspector should take seriously. But what happens when a terrible storm comes through and leaves the roof unsafe for anyone, even a professional, to walk? A drone can get the job done.
Hail and high winds can loosen or even destroy roofing materials. And in extreme situations, the home's roof might be damaged so severely that it requires full replacement. But even light hail marks need a bird's eye view. Using a drone, you can see every square inch of a roof from every angle while your feet stay planted on the ground.
Watch a drone in action as it records a hail-battered roof:
Storm Debris Doesn't Stop a Drone From Getting a Good Look
The roof is one of the most obvious parts of a home to take a storm hit. But it's by no means the only one. The siding, windows, doors, carports and almost everything on or around the exterior might be damaged. And if there's a lot of debris lying around, navigating through it on foot could put you at risk for injury.
The drones used in home inspecting work are small, lightweight and highly agile. Using the controller in your hand, you can navigate around uprooted trees, across broken glass and through a lot of other debris that might be lying around, including the neighbor's grill.
Insurance Companies are Already Using Drones
This might very well be the year that drones take off, so to speak, for home inspections. The homeowner's insurance company, Allstate, used drones to inspect hail-damaged roofs in Texas this past September. According to Fortune magazine, Allstate has had drones in service for over a year.
With the new FAA rules that explain safe drone operation and government regulations, more inspectors, as well as insurance companies, can put the unmanned aerial vehicles (UAV) to use in the field.
Home inspectors certainly aren't required to invest in and use drones for home inspections. But with the convenience that they offer to the industry, there are plenty of reasons to think about it.
Severe storm damage illustrates just how valuable they can be to an inspector. Drones can go where you can't. And that makes your home inspection business more marketable and more valuable to the community that you serve.
If you're ready to start your home inspection education, you couldn't have picked a better time. ICA School now offers a learning module that covers drones. You'll learn about safe drone operation and find new and inventive ways to put these small aerial vehicles to work for you. Enroll now and watch your career take flight.