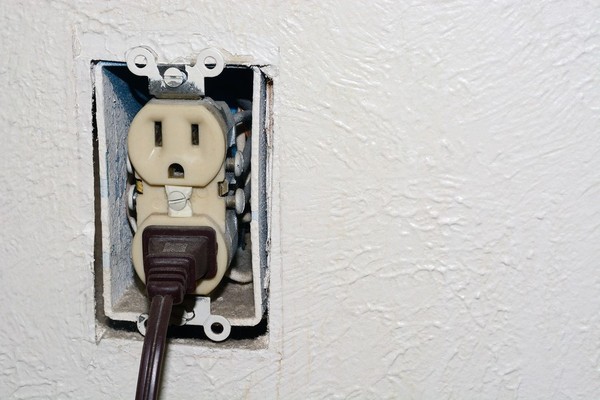 Electricity is powerful and dangerous, so it's important to always be vigilant when performing your home inspections.
Being careful with electricity is different than being careful not to slip and fall. Electricity can be deadly. And while you should respect electricity at all times, there is no reason to be fearful of it, as long as you know what you're doing. After all, almost everyone in the U.S. has electricity in their homes, but it causes hardly any fatalities, according to the National Institute of Health. In fact, most accidental electrocutions happen in the workplace, most often construction, according to the Occupational Health and Safety Administration.
It's important not to inspect any electrical equipment if there is water present. That means if there are puddles on the floor, if the ground is wet, if there is condensation or dripping pipes, if your feet are wet or if you see rust or corrosion on the box, do not inspect it.
You may want to wear special rubber gloves or shoes to perform your inspections. The Indiana Electric Cooperative points out, however, that the ordinary rubber gloves and rubber-soled shoes that you can buy in a department store will not offer protection from electrocution. You must have well-fitting rubber gloves and shoes made specially to protect you from high voltage.
Safety with the Electrical Box
Examining the inside of the electrical panel is an important part a home inspector's job, but it can bring on some anxiety. That box contains a lot of voltage.
When you open the box, stay aware of the possibility of sparks or arcing, and be prepared to get out of the way quickly should either of these occur.
Once you have the cover safely off, make sure you can identify the grounding bracket. If you can't find it, do not proceed with the inspection of the electrical panel; it isn't safe.
Safety with Switches, Outlets, and Breakers
When inspecting wall switches or outlets, look for signs of problems before beginning. Burn or scorch marks, melting, a burning smell, corrosion, unusual heat, buzzing, or looseness are all causes for concern.
Inspectapedia says never to turn on circuit breakers found in the off position. They might be that way because of a malfunction or because work is being done on them. Similarly, do not turn any circuit breakers off. You may damage computers or other equipment in the home. Always ask the homeowner before turning switches in the house on or off for the same reasons.
If you get the owner's permission to turn off a circuit to inspect switches, outlets, fixtures, appliances, or other components, still treat the area as if it is electrified. Oftentimes the designations marked in a fuse box are incorrect, so you may think the power is off when it is not. Or the wiring may be faulty. Either way, it's better to be safe than sorry. Always test the component to be sure no current is flowing through it before you touch it.
Stay Safe When Doing Home Inspections
Performing home inspections is a rewarding career, but it's not without its dangers. When dealing with electricity, always take every precaution. To find out more about becoming a licensed home inspector, check out our website today.